Goodline Painters can help your organisation complete its painting project on time and on budget.
Our professional paintwork creates a great impact, reinforces your branding and significantly enhances the physical work environment for your staff and customers.
Goodline Painters works with professional tradesmen and premium products to achieve the result you desire within your timeframe.
Commercial Painting
Goodline Painters is experienced in commercial painting and equipped to manage commercial projects. From single shop/office fitouts to large, commercial projects, we work with you the client to meet your needs.
Our project managers are budget conscious, continually auditing for quality and never forget the deadline. Goodline Painters has the right team to suit your project.
Real Estate Agents
Fresh, professional paintwork can significantly increase the value of a property and creates a great impact on home buyers.
Goodline Painters offer Real Estate agents a cost effective service to help them achieve sales results. Contact Goodline now to discuss our preferential pricing for agency contracts.
Contract Painter
Goodline Painters are experienced, professional tradesmen committed to our Quality Guarantee*.
If you require the services of a reliable, competitively priced, painting contractor contact Goodline now to discuss your projects. Preferential pricing available to approved clients.
Building Managers and On-going Maintenance
If you are a building manager we can make your life easier!
Goodline Painters can bring a residential or commercial property, to its full aesthetic potential, internally and externally. For residential blocks of units, apartments or townhouses, professional paintwork creates great impact, whether they are to take on a new appearance, be maintained or have just been built.
For commercial offices, retail space, factories and industrial sites, Goodline Painters' professional paintwork makes an impression on branding and the physical work environment. We work with the highest quality tradesmen and premium products to manage your painting project so as to satisfy Body Corporate, property owners and tenants in terms of excellent paintwork, timeframes and convenience.
22 IMPORTANT QUESTIONS TO ASK YOUR PAINTER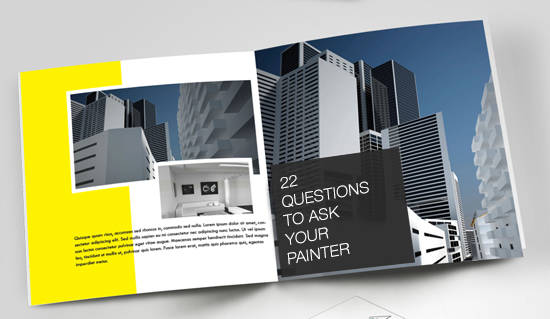 Download our '22 Important Questions' PDF here before you choose a house painter.